This crossing is located on the Ferrers Road between the junction with Benbow Drive and the exit road from the Asda car park. The crossing is used by residents from the south of the town to visit the town centre and Asda supermarket. Many residents are elderly, living in the nearby Hamilton Court. The crossing is also extensively used by the pupils from William de Ferrers School. The road has a 40mph speed limit, is situated on a bend and is in a poor state of repair.
Over the years there have been many near misses and some highlighted by facebook conversations. Recently a local resident started an on-line petition which has gained in excess of 500 signatures. I share the link as it appears she addressed the petition to the wrong Councillor [Keith] Bentley and also the links to the ECC petition service on the Essex County Council website are not working.
Further on in this document I state further evidence to support this request.
Link found on ESSEX COUNTY COUNCIL PETITIONS POLICY https://assets.ctfassets.net/knkzaf64jx5x/1CPstGBORXBNoXOmDmRHO5/2b4cf01017bae4820e941fe8236b4ca7/petitions _policy.pdf 4 out 5 links on this page are broken.
Link to Melanie Tucker petition https://www.change.org/p/cllr-keith-bentley-save-a-life-upgrade-our-crossing
Example 1
Upgrade of Existing Crossing B1007 Stock Road https://www.essexhighways.org/Uploads/TRAF5874_SOR2.pdf
STATEMENT OF REASON found in link
Upgrade of existing Zebra Crossing to a Puffin Crossing - B1007 Stock Road, Billericay Statement of Reasons The existing zebra crossing is proposed to be upgraded to a signalised puffin crossing further to residents requests made through the County Councillors and supported by the Basildon Local Highways Panel. The zebra crossing is in the vicinity of Mayflower High School and is used heavily at school start and finish times. Concerns have been raised, particularly at school times, about the high volume of pedestrians using the existing zebra crossing and frustrating drivers. Some drivers refuse to stop and those drivers that do stop are left waiting at the crossing for lengthy periods of time whilst large numbers of pedestrians cross. As a result both pedestrians and vehicle users are at risk from the behaviour of each other and potential collisions occurring. The upgrade of the zebra crossing to a puffin crossing will assist in regulating both pedestrians and vehicular flow at this location on Stock Road and in turn reduce the amount of frustration experienced by all parties.
Google map shows upgrade between Sep '16 and May '19, alongside crashmap detail for last 10 years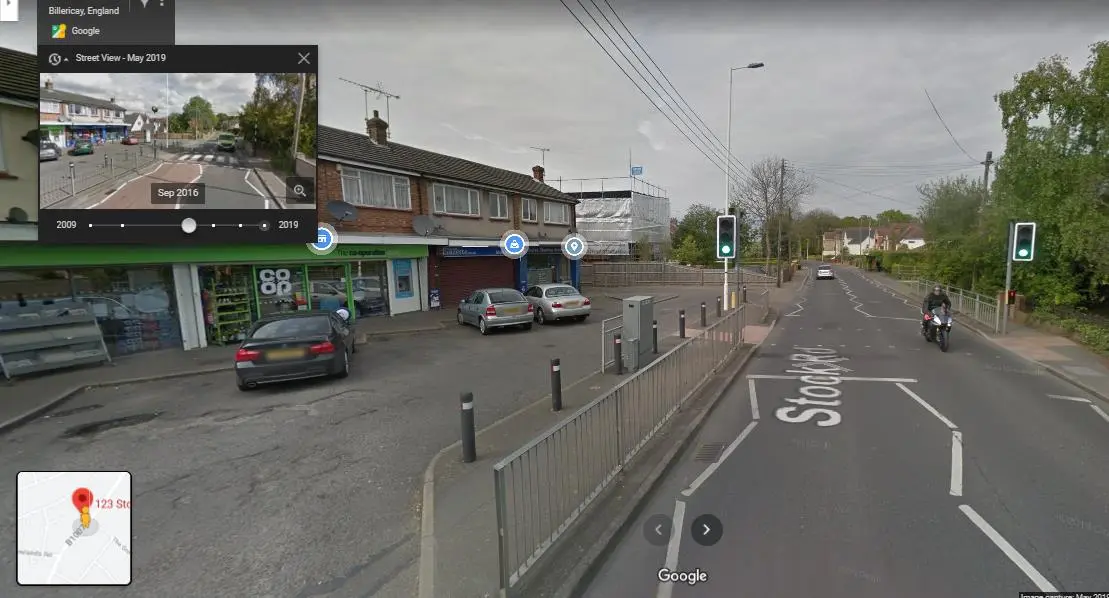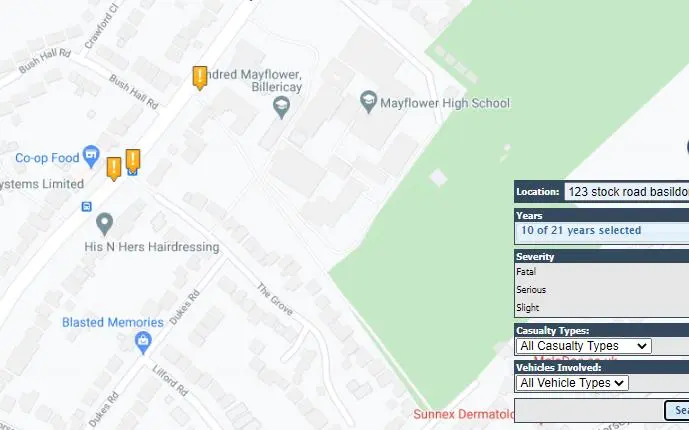 Example 2
Road Safety Assessment of Zebra Crossing https://www.essexhighways.org/uploads/docs/3.-cc-lhp-fs---sept-19-3.pdf CHELMSFORD LOCAL HIGHWAYS PANEL AGENDA - 12th September 2019. Chairman- County Councillor Bob Massey

Google map of zebra crossing, alongside crashmap detail for last 10 years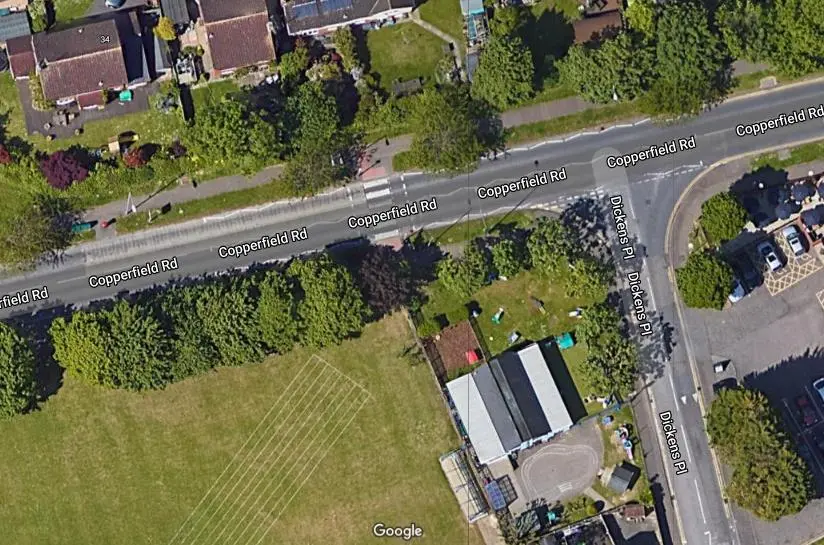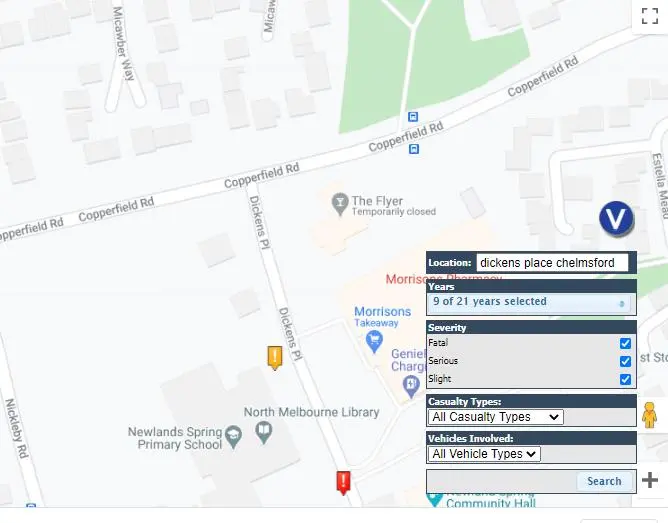 Example 3
Upgrade of Zebra Crossing - Funded by South Essex Parking Partnership Joint Committee in July 2020 https://www.chelmsford.gov.uk/search/#?cludoquery=zebra&cludopage=1&cludorefurl=https%3A%2F%2Fwww.chelmsfo rd.gov.uk%2F&cludorefpt=Homepage%20-%20Chelmsford%20City%20Council Information found in link
NOT FOR PUBLICATION

3: Scheme name: Eastwood Road, Rayleigh - Signalised Crossing Scheme reference: LROC172088 Scheme cost: £48,571 (the total for the scheme is £185,000, SEPP to allocate the remaining £48,571 of the Rochford allocation of funds to this scheme, the LHP will be able to fund the remainder of the scheme cost) Scheme location: The zebra crossing outside of Sainsbury's Local in Eastwood Road, Rayleigh Scheme details: Upgrading the current zebra crossing to a signalised crossing due to a number of pedestrian/vehicle collisions.
Google map of zebra crossing, alongside crashmap detail for last 10 years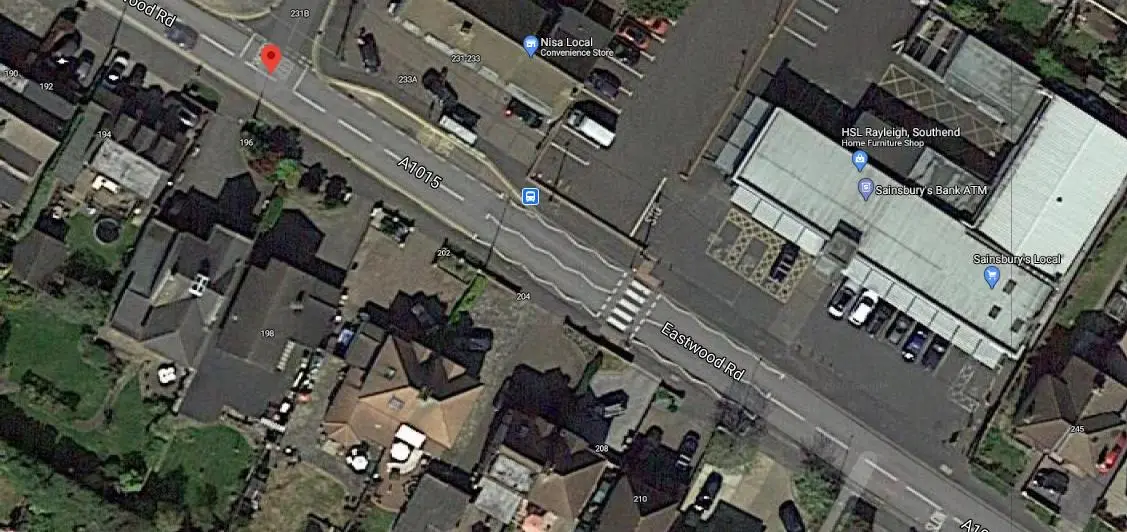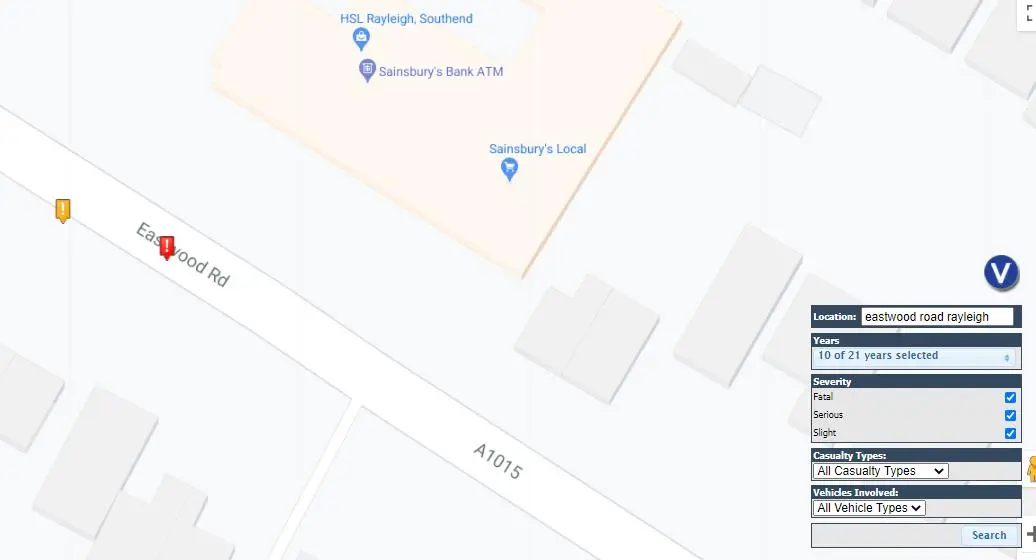 Back to Our Own Crossing on Ferrers Road.
When I was serving as a Town Councillor around 2015 I remember this crossing being discussed and the suggestion going to County Council regarding complaints that it is dangerous and subsequently hearing nothing would be done.
South Woodham Ferrers Town Council minutes reference:-
25th June 2019 E18 After reviewing the results from the traffic survey on Ferrers Road completed by ECC on a proposal by Councillor Bentley, seconded by Councillor Lewis it was AGREED to ask about a controlled crossing on Ferrers Road where the zebra crossing currently is and to reconsider the 30mph as the average speed recorded on the traffic survey suggests that would be appropriate.
10th Nov 2020 C170 Councillor Massey gave an update of a Ferrers Road traffic survey and pedestrian crossing near Asda.

No details minuted
Google map of zebra crossing, alongside crashmap detail for last 10 years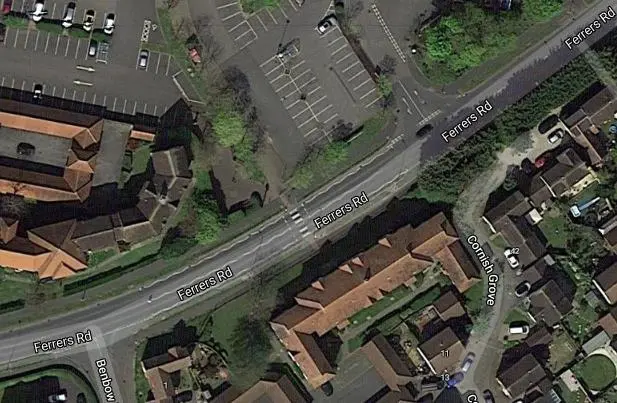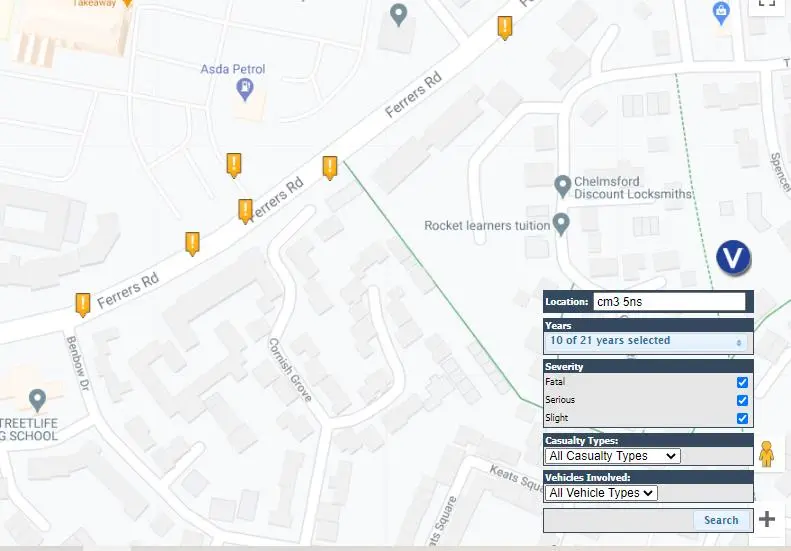 Below shows stopping distances from 40mph and 50mph. Most local residents are aware of the poor visibility at this crossing and do slow down to take a good look. However there is always the local who knows the road and speeds or the visitor who will not know the road.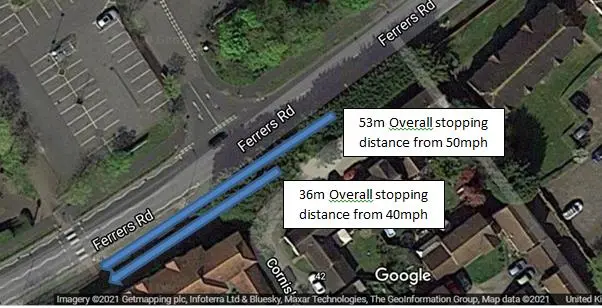 The following photos were taken at 3.45 on a January afternoon in damp conditions.
I have worked with stopping distances on dry roads, these obviously increase on wet roads.
Rospa state that the stopping distance for 40mph will increase to 45m The pedestrian is 6'2" tall so not a small pedestrian.
West to East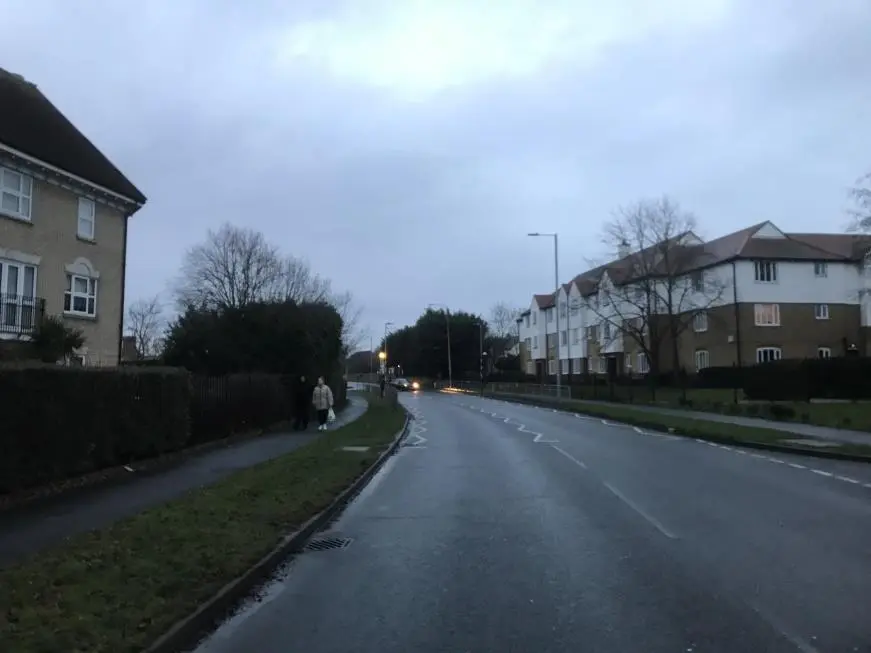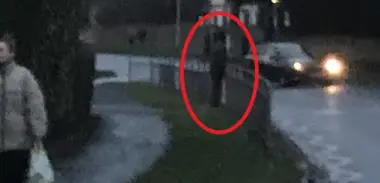 West to East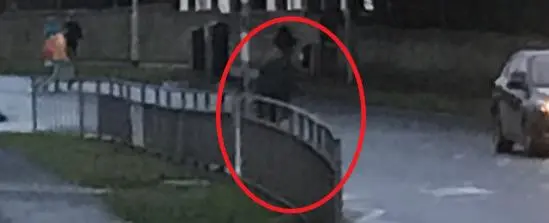 East to West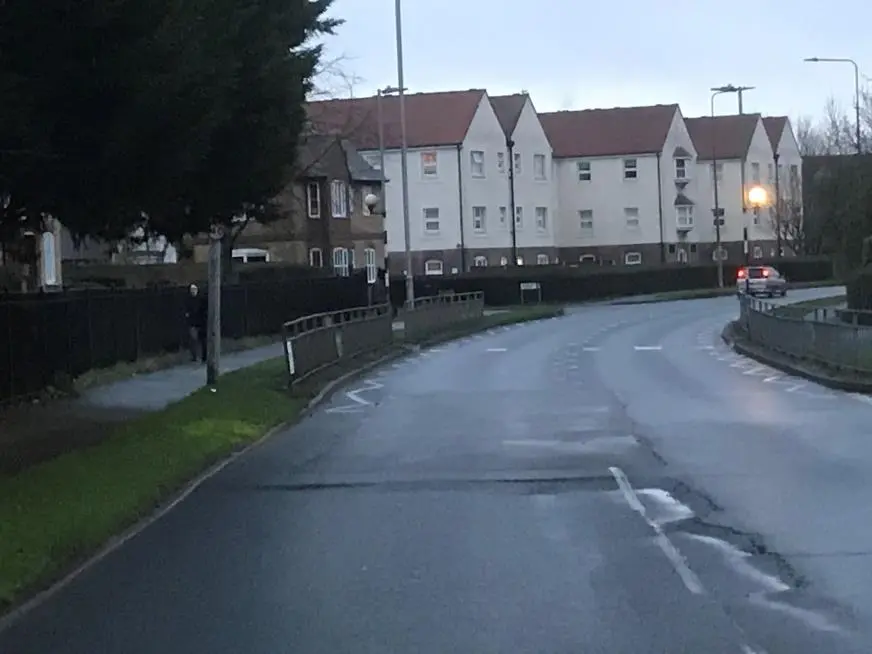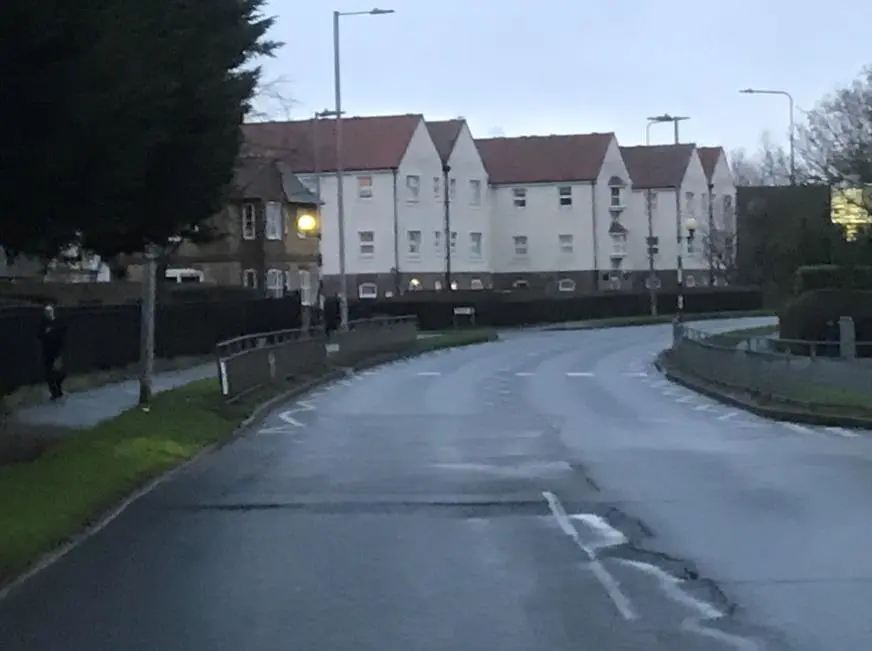 Visible damage to road surface compounds visual disturbance as vehicle is shaken with the same force as hitting a speed bump, causing a driver to momentarily lose concentration.
Totally hidden from view
Comments from Facebook Posts
Mel Tucker - 4th November 2020
I know this is unlikely, but if the car who had stopped at the crossing by asda to let my daughter cross noticed the make/model/numberplate of the idiot who sped through at 40-50 while she was halfway across, missing her by inches..... Please get in touch. Would love to report it. She was in bits when she got home, and someone less mobile would have been killed.
Hilary Mayers Me and my partner, sadly have had same experience many times at that death trap of a crossing, its well scary how people drive so fast there. infact everywhere round here i am sorry i know how i felt at that time
Sheldon Scott Happened to my wife with our boy in the buggy. Luckily enough there was one of those rare police cars two cars behind so they got pulled over.
Grace Collinson I have had that happen a few times.really annoys me to old to take them on
Helen Bannister I've had this happen to me.. the car stopped but the biker behind didn't, missed me by a gnats and I was an adult and it really shook me up
Jodie Mae Howard We had this the other day! I was coming to the crossing from one side and there were young children crossing when some asshat sped through the crossing on the other side of the road while they were still crossing! Small children are Indecisive and unpredictable and could turn back on themselves and god knows what could of happened! You stop when there are people on the crossing, not speed through! Some old twat in his fancy car thinking the rules don't apply to his stupid ass
Emma Boys-Smith My brother was hit by a car whilst he was using this crossing and he was lucky to survive. It's not well lit at all
Richard Gibson I've driven past it a few times and not seen someone about to cross. It's terribly lit. And when ppl wear clothes that blend into the dark it's even harder to see. It's no excuse for poor driving but happens to everyone
Debs Jane My son was also hit by a car on that crossing with minor injuries luckily, ive always said there should be lights there
Matrix I live bang on opposite the crossing in a flat and I dunno how many ppl have got away with been killed , I see it most days , the drivers don't slow down or stop
Katie Woodley - 10 July 2020
Just had some idiot in a black Range Rover speed up and almost run me and a six year old over while we was in the middle of the zebra crossing near the asda car park...
Lesley Watkin It needs to be a pelican crossing. The lighting there is inadequate for just a zebra. When I have driven along there after dark it really hard to see people even on the path and always slow right down just in case
Påul Barnes Was only saying the other night that the zebra crossing at night times is so badly lit, You would of thought that there would be some very bright lights there to ensure people's safely.
Katrina Miller - 20 February 2018
I hate these kind of posts but I am so angry I have to vent. At quarter past six tonight I witnessed the most dangerous and idiotic driving from a white range rover. I tried to get the reg so I could report it but sadly my driving safely ( given the wet conditions and at the legal speed limit) did not allow me to get close enough to see. My back was up firstly by the constant beeping at me to exit the asda car park when it was clearly unsafe to do so given the oncoming traffic and then whilst I stopped to allow a lady and her dog to cross the zebra crossing the plank driving the car decided to overtake me and roar off thankfully the lady hadn't started crossing or it could have been fatal!! Beware people this person clearly has no regards for others safety
Hayley Bull - 23 July 2017
To the young lady in the red car with white stripes that just overtook my dad in the white van whilst he stopped for my husband and son riding their bike over the zebra crossing - you really need to look at how to drive carefully, if it wasn't for my husband's quick reaction this story could be a lot different! Especially as there was an oncoming car too....! If this is you or your daughter/sister - please make them aware how quickly their lives could change by a silly mistake
Amanda Smith - 14 January 2015
To the fat bloke driving the jag coming out of Asda. I stopped at zebra crossing and I wait till cars stop before walking out with my 2yr old. There was no need to wave your hands and shout at me as you drove over the crossing , your mouth was disgusting! Thankfully for me police officers were walking along the same stretch of path ... Not like you bloody noticed them!!
Maddie Brooks That zebra crossing is a death trap. I always wait to make sure they stop. I've nearly been hit too many times when they don't. Even had a white van drive through when I was half way across once.
Gemma Lianne Williams - 6 December 2016
Ok so ASDA is not one big zebra crossing, walking out in front of my car and me seeing you just on time as I turned the corner was not the cleverest of ideas! I need to drive to get to my job and losing my licence because some idiot with half a brain cell decides to play chicken isn't going to end well! So annoying that people just walk out in front of you thinking they are priority! I think not! One day a car will not stop and be as attentive as I am! It's been a day of crap drivers and idiots! (I may add that if someone is already crossing then obviously give them right of way, I am referring to "they've seen me and decided to step out anyway).
Jan Bailey - 7 March 2016
Yet another accident just happened at zebra crossing near Asda. Car gone into another one . When is something gonna b done bout this. This rd shud b 30 and not 40 miles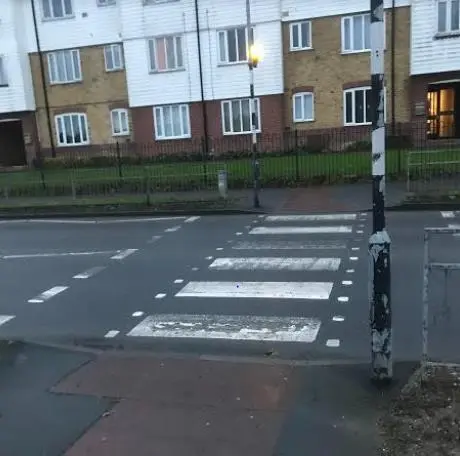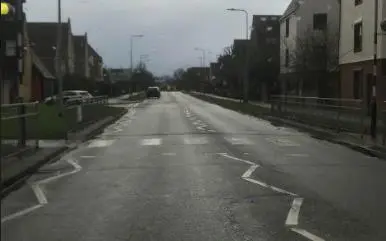 Example 1 has 2 minor accidents near the site of the crossing. This road is subject to a 30mph speed limit and the primary argument for an upgrade is the frustration of users twice a day when the school children are going to and from school. Example 2 shows an investment of £3,000 to carry out a road safety assessment although the crashmap only shows 1 accident in the vicinity. Example 3 does show 1 minor and 1 serious accident close to the crossing. This road is subject to a 30mph speed limit, and has funds allocated to upgrade to a signal crossing.
I have searched the Essex County Council, Chelmsford City Council and South Woodham Ferrers Town Council websites and used Google search but cannot find any conclusive evidence that any assessment has been carried out since the crossing was built.
The Ferrers Road crossing has had several minor accidents as shown on the crashmap detail along with numerous near misses as seen in facebook comments. This crossing arouses strong feelings in both drivers and pedestrians. When the crossing was built SWF was a quieter town and if it were designed today it would not definitely not be a zebra crossing but would be a light controlled crossing due to the 40mph speed limit. The other crossing further down Ferrers Road built 2016/2017 is light controlled and not as busy. At busy times drivers turning right from Asda car park are concentrating on finding a gap between vehicles and often accelerate towards the crossing to avoid conflict with the traffic on the main road. The various buildings and foliage on either side gives an ever changing backdrop a pedestrian can easily be camouflaged by. The bend in the road makes the railings appear a solid feature a pedestrian can be hidden behind. The sorry state of the tarmac within close proximity to the zigzags is as effective as a speed bump when hit by a car, unfortunately it is not expected and the impact could make a driver lose concentration or control of their vehicle. The paint on the road and the belisha beacons is also in a poor state of repair.
This crossing is situated in a busy area between Benbow Drive and the Asda car park exit Road.These turnings also cause distraction and confusion for drivers. Suggestions have been made by local residents to make the crossing safer, these include having a pelican or puffin crossing, reducing the speed limit to 30mph, better lighting, illuminated warning sign that flashes when drivers approach, and raising the crossing to force drivers to slow. With all this in mind I respectfully request the safety of this crossing is assessed before there is a collision with serious injuries or death involved.
Thank you
Jill Winn